---
Composer Profiles
---
Martha Mooke
Martha Mooke
---
Listen to this show


---
Martha Mooke
Click here
for RealAudio
comments by the composer
, 2:49.
RA 14.4
---
Martha Mooke has her own home page. Here it is: http://members.aol.com/venermp/
Martha Mooke
A pioneer in the field of the electric five string viola, Martha Mooke draws on her classical training combining extended techniques, electronics, improvisation and vast musical resources to produce her own highly unique and individual voice.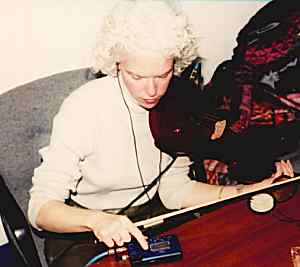 Martha Mooke's output includes evocative solo pieces, ensemble works for acoustic and electric instruments and works for theatre and dance. She has been presented by such venues as the Kitchen, the Knitting Factory, the Hammoniale Festival der Frauen, the Festival of Women Improvisers, Performance Space 122, and the Trenton Avant Garde Festival. She has been a featured artist on WNYC's New Sounds Live with John Schaefer. Mooke has appeared with Enya on the David Letterman and Rosie O'Donnell shows and is in the new Whitney Houston/Mariah Carey duet from the film "Prince of Egypt".
Martha Mooke has toured throughout the United States and Europe with The Music of Andrew Lloyd Webber, John Cale and the Soldier String Quartet. She has worked with the Turtle Island String Quartet, Ray Charles, Tony Bennett, Anthony Braxton, Steve Reich and Philip Glass among others. Mooke currently performs with many of New York's leading ensembles. She played in the U.S. premiere of Paul McCartney's "Standing Stone" at Carnegie Hall with the Orchestra of St. Luke's.
Born in New York City, Martha Mooke earned a Master of Music degree from the University of Massachusetts in Amherst and graduated summa cum laude with a Bachelor of Arts from the State University of New York at Albany. Mooke is a Yamaha Artist and has received awards from ASCAP, Meet the Composer and Arts International. Mooke received a platinum record for her work on 10,000 Maniacs Unplugged.
Martha Mooke is published by Vener Music Publishing and is represented by Maximum Music Connections.
---
To reach the composer:
On-line: venermp@aol.com
By telephone: +1-845-353-3026
By fax:
By physical mail: P.O. Box 123, Nyack, NY 10960 USA
In performance at the American Music Center with K&D
---