---
Composer Profiles
---
David Del Tredici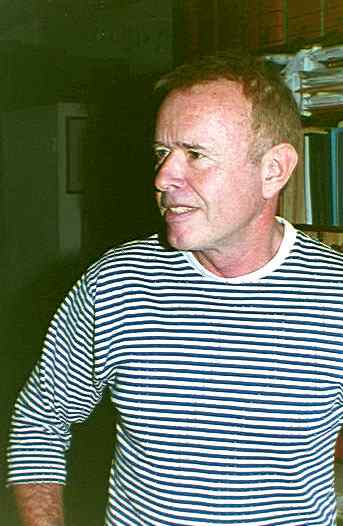 David Del Tredici
---
Listen to this show


---
David Del Tredici
Click here
for RealAudio comments by the composer, 1:51. RA/14.4 Version

---
David Del Tredici is recognized as America's foremost exponent of the return to tonality in composition. Pulitzer Prize-winning composer David Del Tredici has made a dramatic shift from his beloved settings of Lewis Carroll's Alice's Adventures in Wonderland to an ardent new embrace of American poetry. In the last few years, he has written more than 50 songs, rooted in diverse and decidedly 20th century poetic inspiration. Victorian sensibility has yielded to the urban contemporary -- tormented relationships, personal transformations, and the joys and sorrows of gay life. Del Tredici's recent songs moved one San Francisco critic to comment that they "must surely herald a bright new era for the neglected tradition of song composition."
Since 1996, Del Tredici has been in a remarkably fruitful creative period. The recent New York Philharmonic commission The Spider and the Fly is an elaborate 45-minute setting for soprano and baritone of the well-known Mary Howitt poem ("Will you come into my Parlor?" said the Spider to the Fly). The piece received its world premiere in May 1998 under the direction of Kurt Masur, with soprano Hila Plitmann and baritone Nathan Gunn as the vocal soloists. In October of 1998, the San Francisco Contemporary Music Players premiered Chana's Story, a song cycle for soprano and piano to poetry of Chana Bloch. March 1999 saw the Eos Orchestra, as part of a consortium commission, premiere the mono-drama Dracula, based on the poem, "My Neighbor the Distinguished Count" by Alfred Corn. At present, Del Tredici is working on Four Inez Poems, settings to poetry by Colette Inez, commissioned by Sequitur and the Miller Theatre for performance in April 2000. June of the same year Michael Tilson Thomas will conduct the premiere of Gay Life, commissioned by the San Francisco Symphony, an orchestral song cycle which incorporates poetry of Allen Ginsberg, Thom Gunn and Paul Monette, among others.
Del Tredici has displayed a certain iconoclastic bent and quirky individuality since his earliest works. Trained in serial technique, he soon broke away from the language of his teachers to explore the fantasy world of Lewis Carroll, and in so doing, developed a rich musical idiom of color, humor, and sentiment worked out on vast orchestral canvases of tonal sound. Del Tredici's fascination with the Alice in Wonderland books has yielded a surprising diversity of compositions -- from the spiky, witty settings of Pop- Pourri and Adventures Underground (which include folk and rock ensembles) to the extravagant, theatrical opera-cantata, Final Alice, and the lush, neo-romantic Child Alice. His music has been commissioned and performed by nearly every major American and European orchestral ensemble. Both Final Alice and In Memory of a Summer Day (part one of Child Alice) generated best-selling recordings; the latter work earned Del Tredici the Pulitzer Prize.
Del Tredici's music has also caught the attention of the dance and theatre world. Choreographer Glen Tetley created an evocative, hour-long ballet to In Memory of a Summer Day for the National Ballet of Canada, entitled Alice, and Oscar Ariaz has re- choreographed the same music for The Grand Theatre in Geneva. The pioneering Music Theatre Group created a musical piece based on Mr. Del Tredici's Haddocks' Eyes, starring Tom Hulce, which had a critically acclaimed run in New York. Mr. Del Tredici has been featured in a 90-minute profile "Video Alice" filmed by Channel Four and broadcast on British Television.
From 1988 to 1990, Del Tredici served as Composer-in-Residence with the New York Philharmonic. During his tenure, he composed Steps, which received its world premiere in 1990 under the direction of Zubin Mehta and released on New World Records. Tattoo, a commission for the Concertgebouw Orchestra of Amsterdam, premiered in the United States by the New York Philharmonic and Leonard Bernstein in 1988. The New York Philharmonic subsequently recorded the work for Deutsche Grammophon.
A graduate of the University of California, Berkeley and Princeton University, Del Tredici studied piano with Bernhard Abramowitsch and Robert Helps and composition with Earl Kim, Seymour Shifrin and Roger Sessions.
In addition to the Pulitzer Prize, Mr. Del Tredici's many compositional honors include Guggenheim and Woodrow Wilson fellowships, the Brandeis and Friedheim Awards, grants from the NEA, and election to The American Academy of Arts and Letters. Throughout his career, Del Tredici has been a frequent and grateful guest at various art colonies, most notably Yaddo, the MacDowell Colony and the Virginia Center for the Creative Arts. Currently Distinguished Professor of Music at The City College of New York, Del Tredici will teach in Fall of 1999 and Fall of 2000 at Yale University. He has also held appointments at Harvard University, Boston University, the University of Buffalo and The Juilliard School. Presently he sits on the Boards of Directors of Yaddo, the MacDowell Colony and the Aaron Copland Fund for Music.
An interesting Del Tredici profile page: http://www.TheModernWord.com/joyce/music/del_tredici.html
---
To reach the composer:
On-line: ddtxiii@aol.com
By telephone:
By fax:
By physical mail:
---